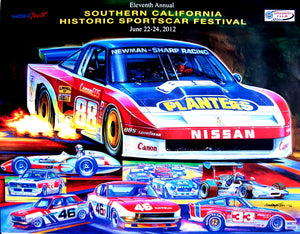 Poster
Price: $80
Size: 22x28 in
This one is for the Datsun enthusiast. Plenty of them on this image. Paul Newman at the wheel of Bob Sharp Racing 's Datsun, Morton's  240Z, 510 and Roadster and Bob Sharp 260Z . Also in the image, AJ Foyt and his roadster and Tony Adamowicz driving our friend Doug Magnon's (RIP) Eagle F5000.
I worked with Ed Swart and his HSR-West vintage racing organization for 20 years doing the posters for his events, mainly for the Historic Sports Car Festival at California Speedway (now Auto Club Speedway), and then continued with SVRA when Ed sold his club to Tony Parella. I really enjoyed (and I still do) my association with both of them.

Free Shipping Continental USA.

Other we ship by FedEx or United States Postal Service Guaranteed. Please, request a quote.