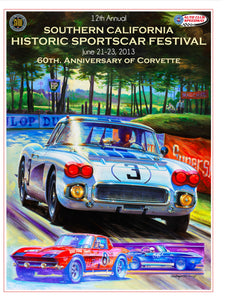 Poster
Price: $80 . 
Size: 22x28 in
Collage for the event poster of the 2014 SVRA Historics at Auto Club Speedway. The main scene captures one of the Corvettes of the marque's contingent at the 1960 Le Mans 24 Hr. race and the other two are of Dick Guldstrand at the wheel of two of his Corvette racecars.
Not framed,
The original painting was sold.

Free Shipping Continental USA.
Other we ship by FedEx or United States Postal Service Guaranteed. Please, request a quote.