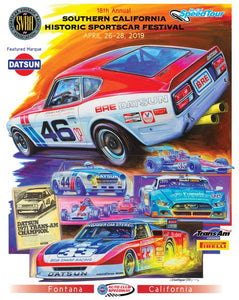 Poster
Price: $80
Size: 22x28 in.
The event celebrated Datsun and the 50th anniversary of the 240Z, therefore, the collage shows John Morton's BRE 240Z, Paul Newman aboard the Bob Sharp Racing Datsun 280ZX and other images of Datsun history.
Original art was sold.
Free Shipping Continental USA.
Other we ship by FedEx or United States Postal Service Guaranteed. Please, request a quote.