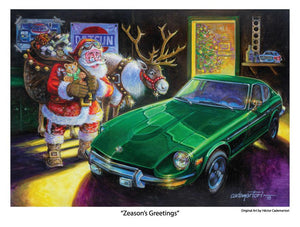 Poster
Price: $10
Size:  9 in x 12 in
By popular demand, I'm offering enlarged versions of my 240Z Christmas cards paintings. My friends suggested that I should sell these larger images to better appreciate the details and objects around the main subject. So, here they are!
Printed on heavy Cover Glossy stock. 
Free Shipping Continental USA.

Other we ship by FedEx or United States Postal Service Guaranteed. Please, request a quote.