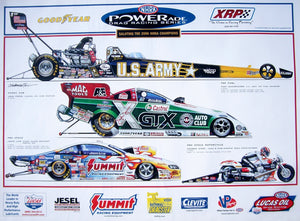 Poster- NHRA Powerade Champions- Tony Schumacher - John Force - Jason Line - Andrew Hines
Price: $60
Size: 18x25
I produced this project for the NHRA from 1989 to 2007. The Champions poster featuring the Pro champions of the year was included with the Winternationals Fan Guide and later on with the Winternationals issue of National Dragster. I enjoyed doing the highly detailed profile illustrations. All of those decals!!!. Beautiful race cars.

Free Shipping Continental USA.
Other we ship by FedEx or United States Postal Service Guaranteed. Please, request a quote.