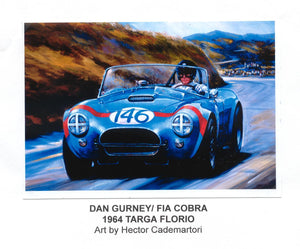 Gurney/Cobra at the Targa Florio
ORIGINAl ART- OIL ON CANVAS
Size: 24x30
Price: $2,500
Comments: Dan Gurney and Jerry Grant (Dan at the wheel) shared one of Carol Shelby's Cobras in FIA trim at the Targa Florio in 1964.
The cars were not ready for the rough Sicilian circuit and didn't fair well, however, the Cobras were beautiful and the scenery magnificent. Did I need any more reasons to do this painting?.
Usage: Hector Cademartori retains the Copyright and Rights of Reproduction of the art. Therefore, any reproduction of this image in any form, physical or digital, must be approved by the artist, in writing, and may include a monetary fee.
Free Shipping Continental USA.
Other we ship by FedEx or United States Postal Service Guaranteed. Please, request a quote.