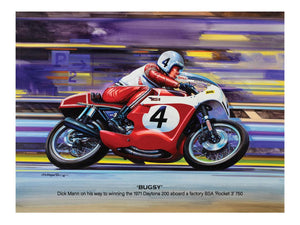 Poster.
Price: $70
Size: 24x18
Dick "Bugsy" Mann won the Daytona 200 in 1970 with a Honda and repeated in 1971 with a BSA Rocket 3 750.
Not Framed.

Original Painting Available. Please, see Originals/Motorcycle Section.
Free Shipping Continental USA.
Other we ship by FedEx or United States Postal Service Guaranteed. Please, request a quote.