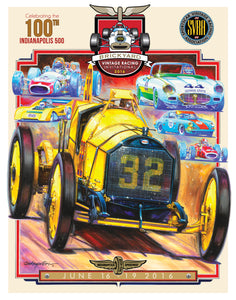 Poster.
Price: $90
Size: 22x28 in
This was the event poster for the SVRA vintage race at the Indianapolis Motor Speedway celebrating the 100th edition of the Indianapolis 500 that year. For this reason the main image shows Ray Harroun, winner of the 1911 race, at the wheel of his Marmon Wasp.
Original was sold.
Free Shipping Continental USA.
Other we ship by FedEx or United States Postal Service Guaranteed. Please, request a quote.