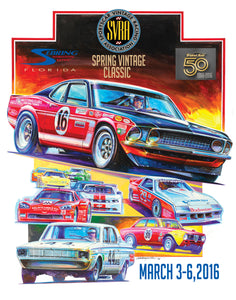 Poster:
Price: $ 80
Size: 22x28
George Follmer and his Bud Moore 1969 Ford Mustang Boss 302 are the main image.
Among modern Tran-Am cars in the collage, the Alfa Romeo GTA of Jochen Rindt, winner of the Under 2 Liter Class and overall, and the Dodge Dart of Bob Tullius/Tony Adamowicz winner of the Over 2 Liter of the first 4  Hours of Sebring in 1966.
I worked with Ed Swart and his HSR-West vintage racing organization for 20 years doing the posters for his events, mainly for the Historic Sports Car Festival at California Speedway (now Auto Club Speedway), and then continued with SVRA when Ed sold his club to Tony Parella. I really enjoyed (and I still do) my association with both of them.

Original painting was sold.
Free Shipping Continental USA.

Other we ship by FedEx or United States Postal Service Guaranteed. Please, request a quote.