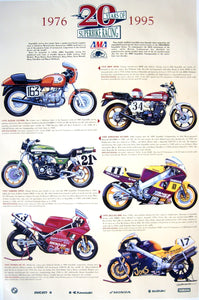 Poster
Price: $50
Size: 24x30 in
This was an enjoyable project I did with the American Motorcyclist Association.
The highly detailed profile illustrations celebrated the manufacturers that participated in the first 20 years of the AMA Pro Racing Superbike Class. BMW, Suzuki, Kawasaki, Honda and Yamaha. Along with the artwork, descriptions of the machines and the people involved with the efforts.
Free Shipping Continental USA.
Other we ship by FedEx or United States Postal Service Guaranteed. Please, request a quote.