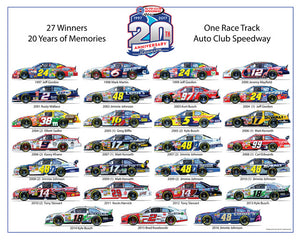 My local racetrack, Auto Club Speedway in Fontana, California, commissioned the production of a poster to celebrate their 20th anniversary.
I did highly detailed profile illustrations of the 27 winners of their NASCAR Cup races from 1997 to 2016. 27  because from 2004 through 2010 the speedway hosted two Cup races.
Size: 24x30 in.  100 Lb Book Poster Stock.
Price: $60
Not Framed
Free Shipping Continental USA.
Other we ship by FedEx or United States Postal Service Guaranteed. Please, request a quote.