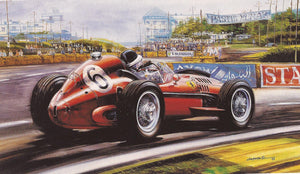 Casablanca
500 Limited Edition Prints signed by Hector Cademartori.
Size: Overall: 33x25
          Image: 26x17
Price: $200
Comments: Mike Hawthorn aboard the Ferrari Dino 246 at the 1958 Moroccan Grand Prix. That year, Hawthorn won the World Championship and lost his life in a road accident soon thereafter. I like to paint unusual places and the Ain Diab circuit in Casablanca filled that description, indeed!
Not framed.
Original Painting was Sold.
Free Shipping Continental USA.
Other we ship by FedEx or United States Postal Service Guaranteed. Please, request a quote.