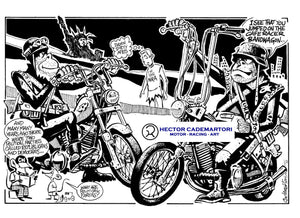 Original Art - Pen and Ink
Price: $150
For over 20 years I produced monthly illustrations for Cycle World Magazine's Letters and Service sections. They were black and white, pen and ink cartoons and I really enjoyed doing them. They illustrated a letter to the editor or to the service section that Paul Dean wrote. They may not make sense out of context because they illustrated a specific subject but I hope you'll enjoy the art anyway.

I should mention that this is not a copy or a reproduction, this is the original illustration, therefore, when it's gone, it's gone.
Note: Due to the nature of the pieces there are no returns.
Usage: Hector Cademartori retains the Copyright and Rights of Reproduction of the art. Therefore, any reproduction of this image in any form, physical or digital, must be approved by the artist, in writing, and may include a monetary fee.
Size: 8.5 in x 11 in
Free Shipping Continental USA.
Other we ship by FedEx or United States Postal Service Guaranteed. Please, request a quote.