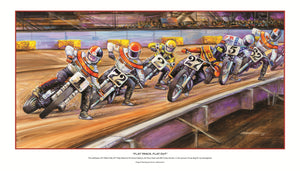 Poster.
Price: $ 80
Size: 16 in x 28 in. Printed on synthetic canvas
The wolfpack, #72 Mike KIdd, #27 Skip Aksland, #2 Kenny Roberts, #5 Gary Scott, and #62 Corky Keener in hot pursuit of top dog #1 Jay Springsteen.
Not Framed.

Original Painting Available. Please, see Originals/Motorcycle Section.
Free Shipping Continental USA.
Other we ship by FedEx or United States Postal Service Guaranteed. Please, request a quote.