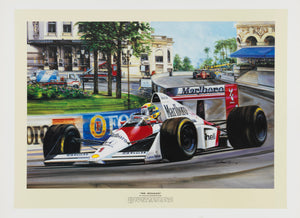 "Mr. Monaco" -Ayrton Senna at Monaco
500 Limited Edition Prints signed by Hector Cademartori.
Size: Overall: 33x25
          Image: 26x17
Price: $200
Comments: Montecarlo is one of my favorite scenarios. Ayrton Senna power his McLaren Honda through the Casino Square on his way to his Monaco GP victory in 1989. Senna went on to win a total of six Monaco GPs, five of them in a row.
Free Shipping Continental USA.
Other we ship by FedEx or United States Postal Service Guaranteed. Please, request a quote.