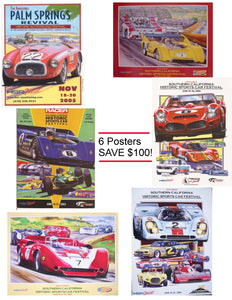 6 Posters
Price: $250
Buy this set and SAVE $110 
Size: 18x24
I worked with Ed Swart and his HSR-West vintage racing organization for 20 years doing the posters for his events, mainly for the Historic Sports Car Festival at California Speedway (now Auto Club Speedway), and then continued with SVRA when Ed sold his club to Tony Parella. I really enjoyed (and I still do) my association with both of them.
Ferrari 166 (2005), Phil Hill and his Le Mans-winner Ferrari (2006), Peter Revson and the McLaren Can- Am at Riverside (2009), Mark Donohue and the Penske Racing Sunoco Mc Laren Can-Am (2003), John Surtees and the Lola Can-Am 1966 championship winner (2008) and Pedro Rodriguez and the 917 Gulf-Porsche 1970 Daytona 24 Hr. winner (2006) are the main images of these collages.
You may buy any of these posters separately, but you'll save $110 if you buy this set.
Free Shipping Continental USA.
Other we ship by FedEx or United States Postal Service Guaranteed. Please, request a quote.