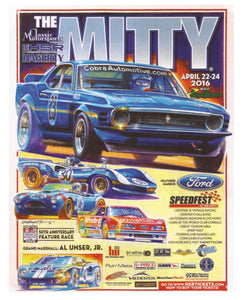 Poster.
Price: $80
Size: 18x24
This collage was the poster for the 2016 The Mitty at Road Atlanta with Ford as the featured marque. Below the Mustang there's Dan Gurney's Can-Am, a Cobra, a Trans-Am and a GT-40.
Not Framed.
The original painting is available. Please, see Originals-Automobile Section.
Free Shipping Continental USA.
Other we ship by FedEx or United States Postal Service Guaranteed. Please, request a quote.