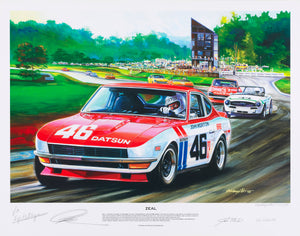 ZEAL
Original Art: Watercolor/Gouache on illustration board.
350 Limited Edition Prints signed by Hector Cademartori, Pete Brock (Team Manager), John Morton (Driver), John Caldwell (Engines) and Mr. Yutaka Katayama, "Mr. K", Father of the Z.
Only 20 prints left.
Price: $300
Overall Size: 22x29
Image Size: 25.5X17.5
Comments: Zeal...The best Z word to describe the way John Morton and his BRE Datsun 240Z attacked the asphalt and red clay of Road Atlanta that day in far-off 1970 to win Datsun's first SCCA C Production title. On that afternoon, Pete Brock and his small band of believers began a Z-car winning tradition that still stirs the blood some 35 years down the line. The scene shows Bob Tullius' Group 44 factory-backed Triumph in second and Bob Sharp in another 240Z close behind in third.
 Original was sold.
Free Shipping Continental USA.
Other we ship by FedEx or United States Postal Service Guaranteed. Please, request a quote.